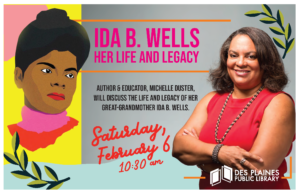 February 6, 2021
10:30am – 11:30am, Online Zoom Event
Author, speaker, and educator, Michelle Duster will discuss the life and legacy of her great-grandmother Ida B. Wells.
Ida B. Wells was born enslaved in 1862 in Holly Springs, Mississippi. She became an anti-lynching crusader, suffragist, pioneering journalist, and activist for the protection of Black lives. In 2020, she won a Pulitzer Prize.
Registration is required for the program, which will be held on Zoom.
If you need help using Zoom, see our guide at How to Video Conference with Zoom or email us at askalibrarian.org
Michelle Duster's book Ida B. the Queen will be published on January 26, 2021 and is available for purchase at The Book Stall.