ERA: How Long Must We Wait?
Sept. 21, 7:30 pm via Zoom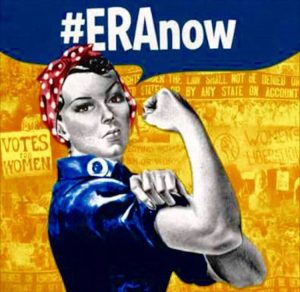 Women have been struggling for gender equity in our Constitution ever since Abigail Adams admonished her husband John to "remember the ladies." Despite federal and state laws, and wide public support, implementation of the Equal Rights Amendment remains elusive, and Courts do not take gender discrimination as seriously as other forms of inequality. Why is this so difficult? What can we do about it right now?

Advance Registration is required for this meeting:
https://us02web.zoom.us/…/tZIlde…
Presenter: Marti Sladek, retired attorney whose practice was centered on employment discrimination and civil rights. She is a long time ERA activist both independently and through NOW, AAUW, DuPage Democratic Women and the national ERA Coalition. Her experiences with ERA are as varied as discussing our lack of gender equity with a member of the National Assembly while in Cuba, and having dinner with the infamous Phyllis Schlafley. She and other ERA warriors were recognized for their efforts by the Illinois Women's Leadership Institute after Illinois finally ratified the Equal Rights Amendment in 2018.
Elizebeth Smith Friedman: The Woman Who Smashed Codes
April 22, 2021

We met via Zoom for a discussion of the life of a truly amazing woman, Elizebeth Smith Friedman, the founder of modern cryptography. In Jan. 2021 PBS AMERICAN EXPERIENCE aired The Codebreaker program about Elizebeth Friedman. It's available online now via Passport or Amazon Prime. This video program is based on the book, The Woman Who Smashed Codes: A True Story of Love, Spies, and the Unlikely Heroine Who Outwitted America's Enemies by Jason Fagone.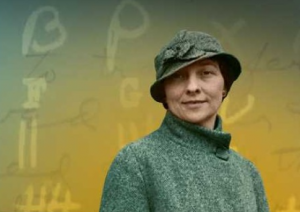 How does Elizebeth Friedman inspire you or young girls who might enjoy coding? We'll discuss this fascinating book that begins at the Newberry Library in Chicago!

The codebreaker who spanned two World Wars and took down the rum-running Mafia during Prohibition, including Capone's brother, single-handedly neutered the German U Boats' wolf pack, and took down Nazi threats in South America that could have become a southern front against the US. In World War I she cracked the German's codes. AND she did it with paper and pencil. She started this on the estate of billionaire George Fabyan in suburban Geneva. He had recruited her in the Newberry Library in Chicago. She learned her craft by trial and error. She often fought bias against women and was paid less. But because she was so talented, she was the one who was always called upon, and she often did her work in the shadows, rarely getting the recognition she deserved.
The Woman Who Smashed Codes, A True Story of Love, Spies, and the Unlikely Heroine Who Outwitted America's Enemies
https://www.npr.org/2017/09/30/548666129/from-dinner-parties-to-spy-rings-the-woman-who-smashed-codes-bursts-with-detail
Link to the American Experience, The Codebreaker.
https://www.pbs.org/wgbh/americanexperience/films/codebreaker/
March 11, 2021, Online Zoom Event
Trailblazing Women of Park Ridge
Our chapter will host a ZOOM meeting to learn about the current exhibit at the Park Ridge Historical Society.  It features TRAILBLAZING WOMEN OF PARK RIDGE, highlighting the following women:
Mother Frances Cabrini, Clara Barck Welles, Hannah Solomon and Hillary Rodham Clinton
After viewing the presentation created by members of the Historical Society, we will have an opportunity to present questions to the docent.  The event is free of charge and it is open to all invited guests.
February 6, 2021 10:30am – 11:30am, Online Zoom Event
Ida B. Wells: Her Life Her Legacy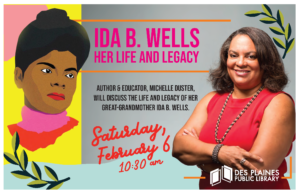 Author, speaker, and educator, Michelle Duster will discuss the life and legacy of her great-grandmother Ida B. Wells.
Ida B. Wells was born enslaved in 1862 in Holly Springs, Mississippi. She became an anti-lynching crusader, suffragist, pioneering journalist, and activist for the protection of Black lives. In 2020, she won a Pulitzer Prize.
January 15, 2021 Friday 7 pm – 8:30 on
Good Mental Kungfu: How to Keep Your Calm in the Chaos

Join Allison Deputy, a 30-year veteran of Tai Chi and mindfulness training for this potentially life-changing workshop. Learn critical techniques to help you weather the storms of these unprecedented days using a powerful, simple meditation technique to release negative energy and infuse positive, healing energy. See how our thoughts and emotions influence our reality.

November 14, 2020 Saturday 10:30 am – Noon  AAUW Fellows and Grantees

Our four presenting fellows are: 
KELLY FAIR, Director, Reflections Foundation awarded a Community Action Grant
PROJECT NAME: Pink Hard Hats- Goal to reduce violence among girls, to reduce violence perpetrated against girls and to replace the school-to-prison pipeline with a school-to-career pipeline. Read more.
MICHELE FRIEDNER, awarded an American Fellowship University of Chicago, Anthropology and archaeology, Postdoctoral program
PROJECT NAME: Becoming Normal, Deafness, Cochlear Implants, and Sense Infrastructures in India. Read more.
KATE BRUNK, Director, YWCA McLean County awarded a Community Action Grant
PROJECT NAME: YW Strive Program for women who have experienced incarceration, providing skills and education to reduce barriers to gainful employment. Read more.
MARQUITTA DORSEY, awarded an American Fellowship Loyola University Chicago, Social Work, Publication Grant
PROJECT NAME: Elevating the Voices of Black Adolescent Females about Sexual Health & Sexual Activity Read more.
Sponsored by Chicago Inc. branch in partnership with the Jane Addams Online branch of AAUW
Wednesday, November 18, 2020: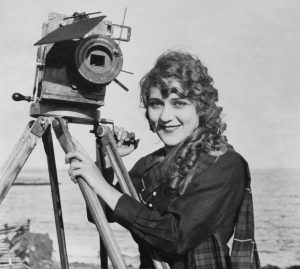 Women Filmmakers & Supporting Women Artists, sponsored by AAUW Jane Addams Branch.  The program features a review of recommended films by women filmmakers. Plus suggestions of how we can support women artists.
Presenter: Susan Santha Kerns is an Associate Professor of Cinema and Television Arts at Columbia College, where she teaches courses in cinema studies, producing, and distribution at the graduate and undergraduate levels. She is also Co-Founder and Co-Director of the Chicago Feminist Film Festival, and author of  a recently published article, "Can't I Just be a Filmmaker? Women's and Feminist Film Festivals' Resurgence in a Postfeminist World," in the Routledge Handbook of Contemporary Feminism.
Program description:
This program presents an overview that follows women in American film history and how they have been pushed in and out of the industry during different times and includes modern trends in the film industry. Learn about some terrific contemporary films and women filmmakers, and how we can support women artists.
Friday, December 4, 2020 7:00 p.m.: Holiday Party Zoom Social: Herstory Trivia Game. A virtual holiday social event promoting the Oakton Community College Scholarship. "Herstory Trivia Game" with questions about historical women of achievement,shows we watched, and discussed virtually. Elaine already has 25 trivia questions! Invite a friend! There will be prizes! Mark the date on your calendar and invite a friend who might join our branch.
PREVIOUS EVENTS:
October through November 3, 2020  Get out and VOTE!

If you are planning to return your ballot by US postal service, mail it as early as possible or by Oct. 20. The alternative is to drop your ballot (in the signed envelope) in a secure ballot collection box.
If you don't trust the US Post Office to deliver your ballot, you can deliver your ballot to a secure ballot collection box at the following locations beginning Oct. 19.
Des Plaines Public Library
1501 Ellinwood Street
Des Plaines 60016
Monday-Friday, 8:30am-7:00pm
Saturdays and Sundays, 9:00am-5:00pm
Mount Prospect Village Hall
50 S. Emerson Street
Mount Prospect 60056
Monday-Friday, 8:30am-7:00pm
Saturdays and Sundays, 9:00am-5:00pm
Niles Village Hall
1000 Civic Center Drive
Niles 60714
Monday-Friday, 8:30am-7:00pm
Saturdays and Sundays, 9:00am-5:00pm
Park Ridge City Hall
505 Butler Place
Park Ridge 60068
Monday-Friday, 8:30am-7:00pm
Saturdays and Sundays, 9:00am-5:00pm
October 29, 2020 Equal Chicago Hosting Latina Equal Pay Day
Facebook event link: https://fb.me/e/1w6qnXRIn
While on average, women earn 82¢ for every $1.00 men earn, women of color routinely experience much wider wage gaps due to the compounding effects of gender and racial discrimination. COVID-19 threatens to widen those disparities. Join us on #LatinaEqualPay Day, the last equal pay day of the year, for a virtual event with Chicago leaders on working women, COVID-19, and the racial and gender pay disparities that continue to exist in our country.
FEATURING:
Illinois State Rep. Anna Moeller;
Cherita Ellens, President and CEO of Women Employed;
Linda Xóchitl Tortolero, President and CEO of Mujeres Latinas en Acción;
Illinois Comptroller Susana Mendoza;
Moderator: Kelly Saulsberry, Director of Policy and Outreach for the Chicago Commission on Human Rights.
This event will be livestreamed on Facebook Thursday, October 29 from 4-5PM
The Equal Pay Day Chicago coalition and our partners are working to lift up the voices and experiences of women of color in conversations about the wage gap. That's why this year, we are holding Chicago's annual equal pay event on Latina Equal Pay Day in recognition of the fact that we cannot close the wage gap until ALL women are paid equitably.
October, 2020
Virtual Tours of the RBG Exhibit at Illinois Holocaust Museum; various times; cost is $10 per person, payable at time of registration; www.ilholocaustmuseum.org/pubtours/
Based on the New York Times bestselling book and Tumblr page of the same name, Notorious RBG: The Life and Times of Ruth Bader Ginsburg is the first-ever museum exhibition focused solely on this judicial icon, whose image graces mugs, t-shirts, posters, and bobbleheads. The exhibit is a vibrant exploration of Justice Ginsburg's life and her numerous, often simultaneous roles as a student, wife, mother, lawyer, judge, women's rights pioneer, and Internet phenomenon. Whether you're a fan or a legal scholar, don't miss this blockbuster exhibit!
This exhibition was developed by Associate Curator at Los Angeles Skirball Cultural Center, Cate Thurston, in partnership with Irin Carmon and Shana Knizhnik, co-authors of the New York Times bestselling book, Notorious RBG: The Life and Times of Ruth Bader Ginsburg.
Oakton College Women's Virtual Art Exhibit: Where Are We Now? Activism of the Everyday
This exhibit will be available online from Oct. 19 – Nov. 20. According to their website, "This year's exhibition thoughtfully examines how women have continued to evolve and change. Topics include: women as global citizens, providers, voters entering an election year, lovers, activists and individuals. Furthermore, the art show will explore where women are headed and why it matters."
Monday, Oct. 27, 7:00 p.m., we will have an online branch discussion of these the RBG exhibit and Oakton Community College virtual art exhibit and will also share voting experiences and progress encouraging others to vote. The Zoom link will be sent prior to the date.
Thursday, August 27, 2020 7:30-8:30 pm.
Book discussion The Woman's Hour by Elaine Weiss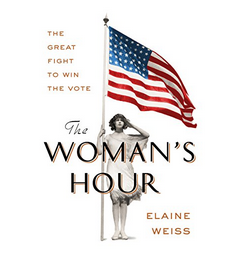 New date and time! Updated invitation to register for the August 27th 7:30 – 8:30 pm AAUW program – a book discussion of The Woman's Hour – The Great Fight to Win the Vote. 
Elaine Fisher and Harriet Lindstrom, will lead the book discussion. Read the thrilling story of the struggle to win adoption of the women's suffrage amendment – the fight for the right to vote in the last state needed, Tennessee. Leaders of the National American Woman Suffrage Association, the Anti-Suffrage Association, and the National Woman's Party. In addition, there is lobbying activity by the tobacco and alcohol industries. The decision was not certain until the final vote.
Will you join us to learn about the fight for Votes for Women?
Here are a couple questions to think about as you read the book:
Which of the three national organizations would you have joined if you had lived in 1910?
Carrie Catt believed women voters would bring about an end to war. Do you think women voters have improved our political systems?
Note: You will need to download the latest version of the Zoom client for meetings at https://zoom.us/
If you have any other questions, contact Kate Skegg, webinar registrar at aauwJaneAddams@gmail.com
Tuesday, July 14, 2020
The Vote, American Experience,  on WTTW  July 6 & July 7 at 8 pm
The Vote tells the dramatic story of the hard-fought campaign waged by American women for the right to vote, a transformative cultural and political movement that resulted in the largest expansion of voting rights in U.S. history. In its final decade, movement leaders wrestled with contentious questions about the most effective methods for affecting social change, debating the use of militant and even violent tactics. Exploring how and why millions of 20th century Americans mobilized for – and against – women's suffrage, "The Vote" brings to life the unsung leaders of the movement and the deep controversies over gender roles and race that divided Americans then, and continues to dominate political discourse today.
Discussion of the PBS programs: Zoom meetings on July 14 (Tues.) 7 – 8:30 pm
Tuesday, June 30, 2020
Women Who Broke Barriers Zoom Discussion
Documentaries on WTTW:
Marian Anderson:  Once in a Hundred Years
Monday, June 8, at 9:30 pm
Mae West:  American Masters 
Tuesday, June 16, at 8:00 pm
Great Performances:  Ann (Richards)
Friday, June 19, at 9:00 pm
Toni Morrison:  American Masters 
Tuesday, June 23, at 8:00 pm
Great Performances:  Gloria (Steinem):  A Life 
Friday, June 26, at 9:00 pm
The discussion of these PBS programs: Zoom meetings on June 30, 7-8:30 pm.

May/June 2020 
Since so much of our program year has been canceled and we are all sitting at home now, the NW Suburban AAUW board has decided to put together a "virtual" end of year program. We will be viewing and discussing the new miniseries Mrs. America. If you haven't seen the write-ups it is about the movement to ratify the ERA in the 70's and prominently follows Phyllis Schlafly as she organizes against the movement. It is a nine part series hosted by Hulu.
Hulu is a streaming service that you can watch from your computer or TV (if you can figure that out!) Each installment is about an hour long. Hulu has a introductory offer of a month free and also has other packages to chose from. Here is some information about how to use Hulu: https://help.hulu.com/s/article/hulu-sign-up?language=en_US
Participants will watch the series at home (like preparing for book club) and come together via Zoom for discussion on three dates to discuss three segments each time. We are planning for 1- 1 ½ hour discussions. If you need help with Hulu or Zoom please let me know and I will try to help you! Cindy cgrau8@gmail.com
Join us for one, two or all three discussions!
Schedule:

Wednesday, May 20 at 7pm
Episode 1: Phyllis
Episode 2: Gloria
Episode 3: Shirley
Wednesday, June 3 at 7pm
Episode 4: Betty
Episode 5: Phyllis & Fred & Brenda & Marc
Episode 6: Jill
Wednesday, June 17 at 7pm
Episode 7: Bella
Episode 8: Houston
Episode 9: Reagan
Discussion: Mrs. America
Time: May 20, 2020 07:00 PM Central Time (US and Canada)
Every other week on Wed, until Jun 17, 2020, 3 occurrence(s)
Wednesday, May 13, 2020
Annual Meeting  – Canceled
---
Reading Group
Fourth Tuesday evening from September – May
We meet in members' homes and read a variety of genres of books.
---