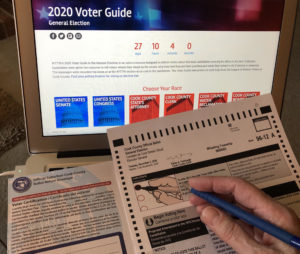 Get out and vote!
Vote by Mail fraud is a myth. This is a tactic to convince voters not to vote during a pandemic. We learned each ballot has a unique number/barcode that identifies your ballot as your vote. You sign the ballot return envelope and this is verified by election judges when your ballot is received (just like voting at the polls)
If you requested a Vote by Mail ballot and have not received it by Oct. 10, call the county election office to resolve the problem or request another ballot. When you mail your ballot, take it inside the post office and give it to a clerk to see that it is postmarked.
The alternative is to drop your ballot in the signed envelope in a secure ballot collection box. Boxes will be available at the following locations beginning Oct. 19. Mail Ballot Drop Box locations map.
Learn about the candidates on the online WTTW Special Section 2020 Voter Guide or other reputable source.
Democracy is not a spectator sport, it requires active citizens to survive!