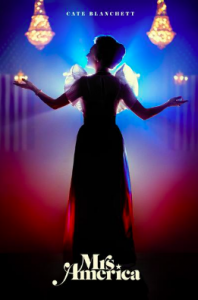 Mrs. America tells the story of the movement to ratify the Equal Rights Amendment (ERA), and the unexpected backlash led by a conservative woman named Phyllis Schlafly, aka "the sweetheart of the silent majority." Through the eyes of the women of the era – both Schlafly and second wave feminists Gloria Steinem, Betty Friedan, Shirley Chisholm, Bella Abzug and Jill Ruckelshaus – the series explores how one of the toughest battlegrounds in the culture wars of the 70s helped give rise to the Moral Majority and forever shifted the political landscape.
Since so much of our program year has been canceled and we are all sitting at home now, the NW Suburban AAUW board has decided to put together a "virtual" end of year program. We will be viewing and discussing the new miniseries Mrs. America. If you haven't seen the write-ups it is about the movement to ratify the ERA in the 70's and prominently follows Phyllis Schlafly as she organizes against the movement. It is a nine part series hosted by Hulu.
Hulu is a streaming service that you can watch from your computer or TV (if you can figure that out!) Each installment is about an hour long. Hulu has a introductory offer of a month free and also has other packages to chose from. Here is some information about how to use Hulu: https://help.hulu.com/s/article/hulu-sign-up?language=en_US
Participants will watch the series at home (like preparing for book club) and come together via Zoom for discussion on three dates to discuss three segments each time. We are planning for 1- 1 ½ hour discussions.
For more information or in need of help with Hulu or Zoom click here.
Join us for one, two or all three of the discussions!
Schedule:
Wednesday, May 20 at 7pm
Episode 1: Phyllis
Episode 2: Gloria
Episode 3: Shirley
Wednesday, June 3 at 7pm
Episode 4: Betty
Episode 5: Phyllis & Fred & Brenda & Marc
Episode 6: Jill
Wednesday, June 17 at 7pm
Episode 7: Bella
Episode 8: Houston
Episode 9: Reagan