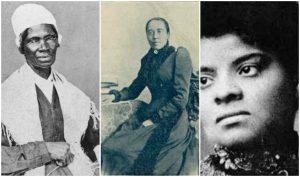 African American Suffragists and the Struggle for Representation
Even though the suffrage movement was focused on women gaining the right to vote, the battle was mostly fought separately along racial lines. White women shunned and marginalized African American women, which propelled them to form their own groups. Author, speaker, and educator, Michelle Duster explains the racial divisions of the suffrage movement and how the struggle for African American women to be included extends to today when it comes to documentation and commemorations of the movement.
Our speaker is Michelle Duster, the great-granddaughter of civil rights pioneer Ida B. Wells.
This program is presented in recognition of Black History Month.
Co-sponsored with Des Plaines Public Library
Saturday, February 22nd
Des Plaines Public Library – Meeting room B and C
10:30-11:30 am
There is no fee for this program but registration is needed. Register now and join us!